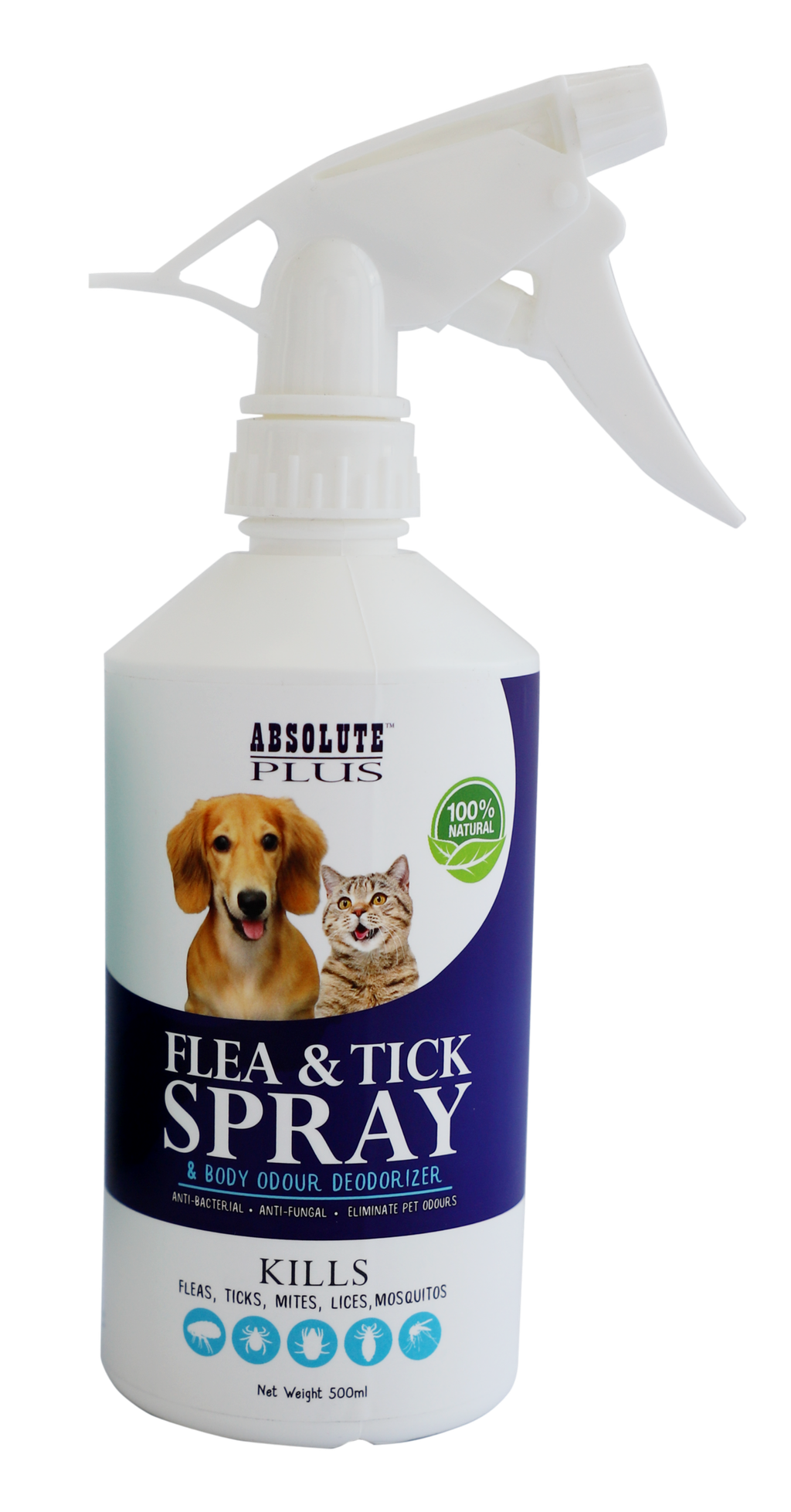 Absolute Plus Flea & Tick Control 500ml
FLEA & TICK SPRAY (BODY ODOUR DEODORISER)
Absolute Plus Flea and Tick Spray is formulated to effectively kill and repel fleas and ticks from your pet and your home.
Anti- Parasitic Therapy
Body Odor Deodorizer
Non-Target Organisms
Environmental Friendly
Anti-Fungal & Bacterial Action
100% Safe on Dogs, Cats, Puppies & Kittens
Absolute Plus Fleas & Ticks control is a Broad Spectrum Disinfectant that provides:
Anti-Parasite Therapy
Repels and kills adult fleas, ticks, flies, mosquitoes, mites & lives, also eliminates flea & tick eggs and larva
Anti-Fungal & Anti-Bacterial Action
Helps relief fungals and bacterials skin infections such as dermatitis & pyoderma
Organic Neem & Karanja Oil Treatment
When mixed together, the oils are effective for treating skin diseases like mange, hotspots, ringworms and yeast infections caused by bacteria in pets
Body Door Deodorizer
Developed to eliminate & deodorises pet odors on contact without masking them with fragrances
Environmental Friendly
Contents do not harm the environment
Ingredients:
Active Ingredients: Etofenprox 1.5%
Instructions:
STEP 1
After bathing, spray on pet's coat thoroughly to ensure penetration through to skin.Begin at the tail and work towards the head.
STEP 2
Massage into the coat until the product reaches the skin. Avoid contact with eyes, nose & mouth.
STEP 3
Use on interior and exterior home surfaces including carpets, upholstery, rugs, dog bedding and more.
STEP 4
Leave spray residue on all surfaces which are infested by fleas, ticks or other ectoparasites.
---
CAUTION
Shake Well & Adjust Nozzle Spray Before Use
Store In A Cool, Dry Place Away From Heat And Direct Sunlight.
If Content Swallowed, Do Not Induce Vomiting. Drink Plenty Of Water.
---