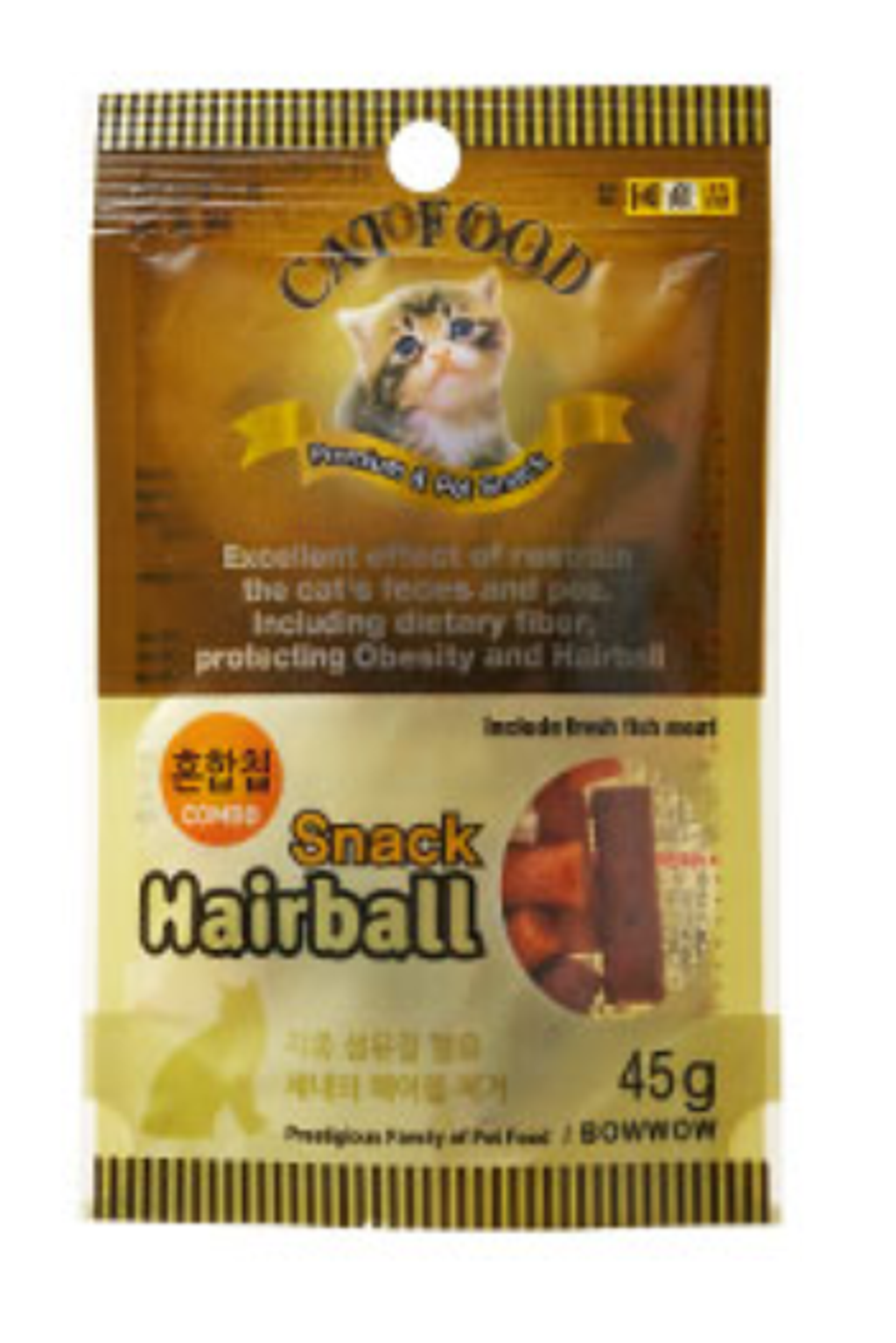 BOWWOW | Cat Combo Hairballs Treats 45g
BowWow's combo jerky retains moisture and nutrients from natural ingredients, while containing extracts to remove the smell of cat stool. Each jerky treat has a variety of functional ingredients such as taurine, vitamins and minerals to support your cat's immunity and health.
---


Ingredients:
Tuna,Salmon, Fish, Calcium, Chiorophyll,Fiber, Wheat gluten, Wheat flour,Taurine, Odor block, Vitamins & Minerals, etc.

Effect of feeding with products:
Reduction to the rate of LDL in blood serum or prevention from fatness.
Available for use of training, snack and education of manner without anxiety.
No burden to Heart, the kidneys because of low salt.
It's surely necessary for growing young pets or mother animals having lack of appetite after childbirth as a essential nutrition snack.
The maximum restraint from the smell of feces.
Prolongation of pets' span of life with improvement of the liver function.


How to feed:
BOWWOW cat foods have excellent favorite therefore, can be feed to your lovely cats as treat 3~4 pieces per daily, as individual cat,s requirements depend on kind of cat, life stage, health, quantity of motion, and season etc.

Suggestions:
Do not feed except pets because of snack used for pets.
White ingredient or black spots can be appeared on the surface of a product Occasionally, but that are an ingredient of meat, so that can be fed without Fear.
You should keep avoiding humidity or direct ray of light, and keep in a dry And cold place.

Guaranteed Analysis:
Crude Protein(minimum) 24%
Crude Fat(minimum) 3.5%
Ca(minimum) 0.3%
P(maximum) 1.2%
Crude Fiber(maximum) 3.0%
Crude Ash(maximum) 7.0%
---