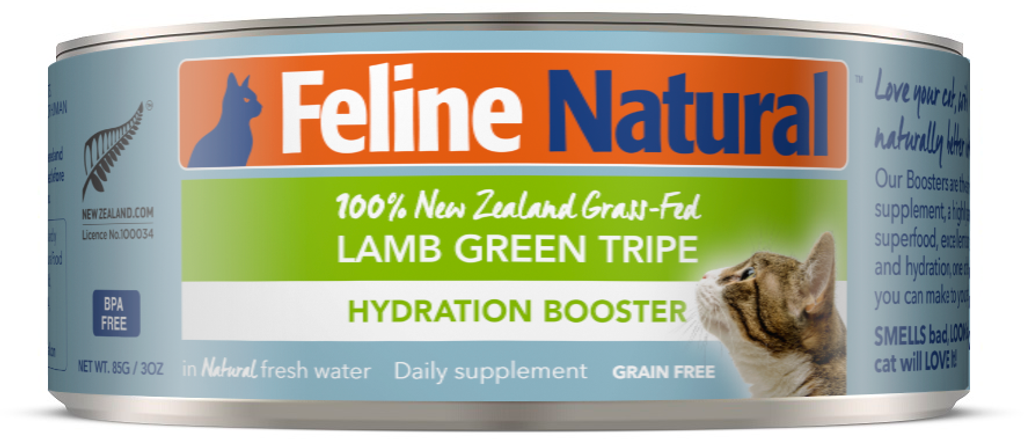 Feline Natural Canned Lamb Green Tripe (Cats) 85G
Feline Natural Lamb Green Tripe Canned Cat Food 85g
Feline Natural premium canned cat food contains all the goodness of our existing product ranges in a convenient, ready to use can. Our canned cat food is FREE from all gelling agents, the only thing we add is Natural Fresh New Zealand Water. Simply pop the top and drop the contents out with ease and no mess. Packed with New Zealand wholefood ingredients and selected essential vitamins, minerals and oils – the perfect balanced diet or ideal nutrient rich high meat boost to add to a cats existing diet.
KEY FEATURES:
Natural Source of Energy & Taurine
Complete & Balanced High Meat, Grain Free Diet
For All Life Stages
Made in New Zealand
INGREDIENTS:
Lamb Green Tripe, Water added for processing.
Guaranteed Analysis
Minimum Crude Protein: 5.5%
Minimum Crude Fat: 0.8%
Maximum Crude Fibre: 1.0%
Maximum Moisture: 90%
Feeding Guide
| Weight | Daily Feeding (Food) | Daily Feeding (Water) |
| --- | --- | --- |
| 2.2-5.5lb / 1-2.5kg | 1/3 - 3/4 cup | 1/3 - 3/4 cup |
| 5.5-11lb / 2.5-5kg | 3/4 - 1.5 cups | 3/4 - 1.5 cups |
| 11-16.5lb / 5-7.5kg | 1.5-2 cups | 1.5-2 cups |
Kitten (1-6 months) Requires up to 3 times adult amount above based on current weight (6-12 months) Requires up to 1.5 times amount above based on current weight
Cup based on a 8oz/240ml cup. Recommendations are a guide only. Your cat's requirements will vary. Pregnant or nursing mothers may require up to four times adult amounts.
Topper Feeding Guide Sprinkle over your cats current diet for daily nutrient boost. We recommend the folloing when feeding as a topper: Small cat - 1/4 cup. Medium cat - 1/2 cup. Large cat - 1/2+ cup.
---