Freeze Dried Canine Turkey Sardine 396.9g/14oz
Shelf-stable and ready to serve – just portion, shred, and rehydrate with water, Bone Broth, or Raw Goat Milk. Made with high-quality protein and Certified Organic produce, crafted especially for your canine.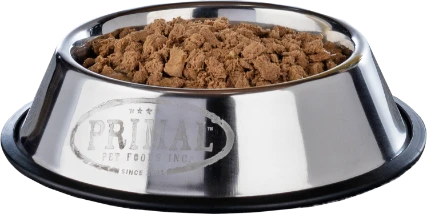 Fresh turkey for superior levels of amino and essential fatty acids
Organic produce for food-derived vitamins A, B-complex, C and D
Whole cold-water sardines for essential omega-3 fatty acids
Ingredients:
Turkey, Turkey Necks, Turkey Hearts, Whole Sardines, Turkey Livers, Organic Squash, Organic Kale, Organic Celery, Organic Pumpkin Seeds, Organic Sunflower Seeds, Organic Blueberries, Organic Cranberries, Organic Quinoa, Organic Rosemary Extract, Organic Cilantro, Organic Ginger, Organic Apple Cider Vinegar, Montmorillonite Clay, Organic Coconut Oil, Vitamin E Supplement, Organic Ground Alfalfa, Dried Organic Kelp, Zinc Sulfate
Guaranteed Analysis:
Crude Protein51% minCrude Fat23% minCrude Fiber3% maxMoisture7% max
Storage & Feeding Information:
STORAGE

Freeze-dried food is shelf-stable and should be kept in a cool, dry place.

Once rehydrated, keep refrigerated and feed within 5 days for optimum freshness.

AVAILABLE IN

Canine Freeze-Dried Nuggets are available in 5.5oz. and 14oz. resealable bags.

SAFE HANDLING TIPS

Keep bag sealed and store in a cool, dry place. Once hydrated, freeze-dried formula will maintain optimum freshness for 3-5 days under refrigeration.

Keep freeze-dried pet foods separate from other foods. Wash hands, working surfaces, utensils and any other items that touch or contact freeze-dried animal pet foods, with hot, soapy water. Refrigerate uneaten portions immediately or discard. Keep this product out of reach of infants and young children.

PREPARATION & SERVING

Rehydrate food with warm water, Bone Broth, or Raw Goat Milk to ensure optimum nutrient absorption. We recommend thoroughly incorporating one tablespoon of hydration for every nugget served.

Use stainless steel bowls when feeding any product. Other materials, such as plastic and porcelain, are porous and can trap germs over time.
---