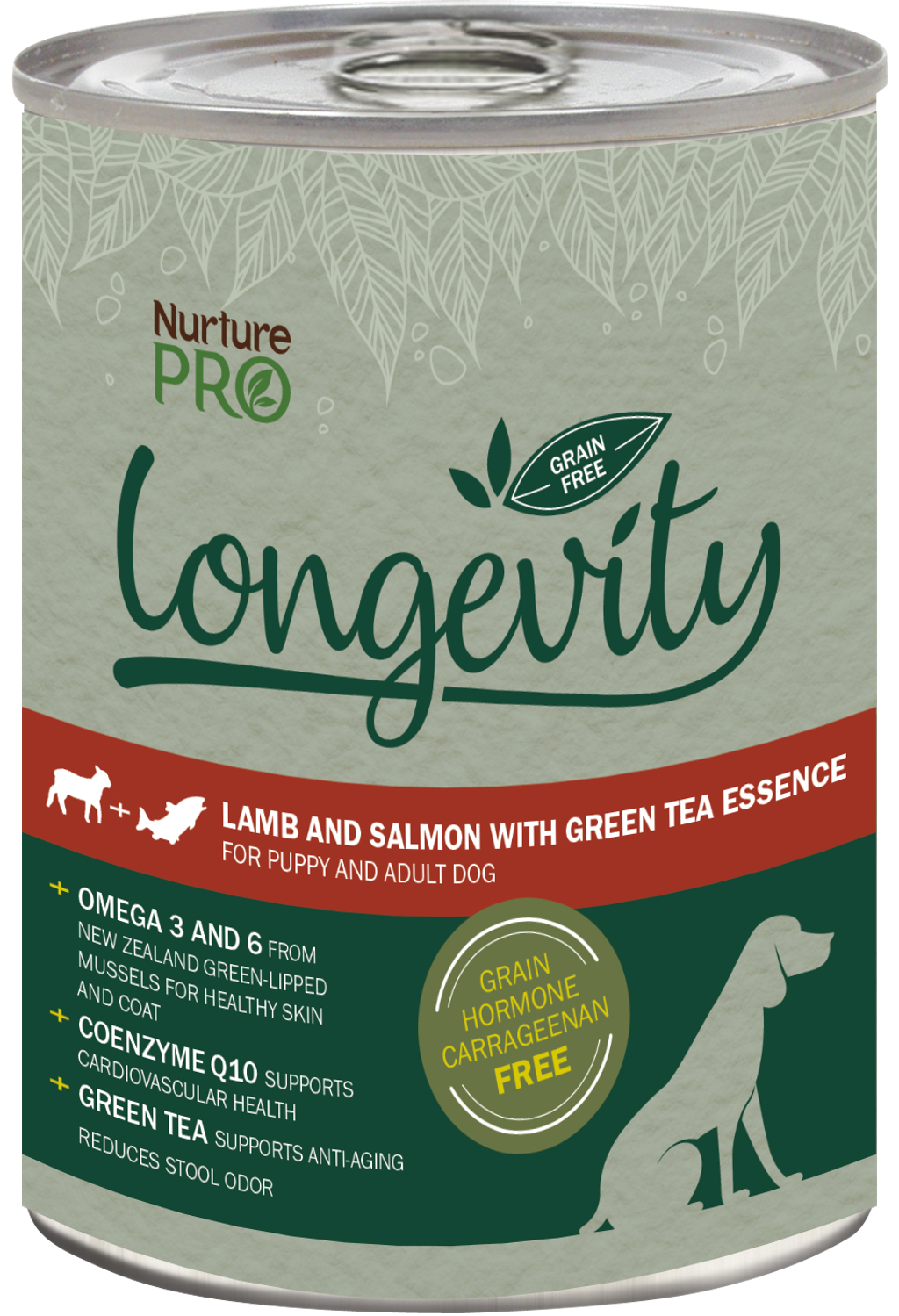 Longevity Dog Can Food- Lamb and Salmon with Green Tea Essence 375g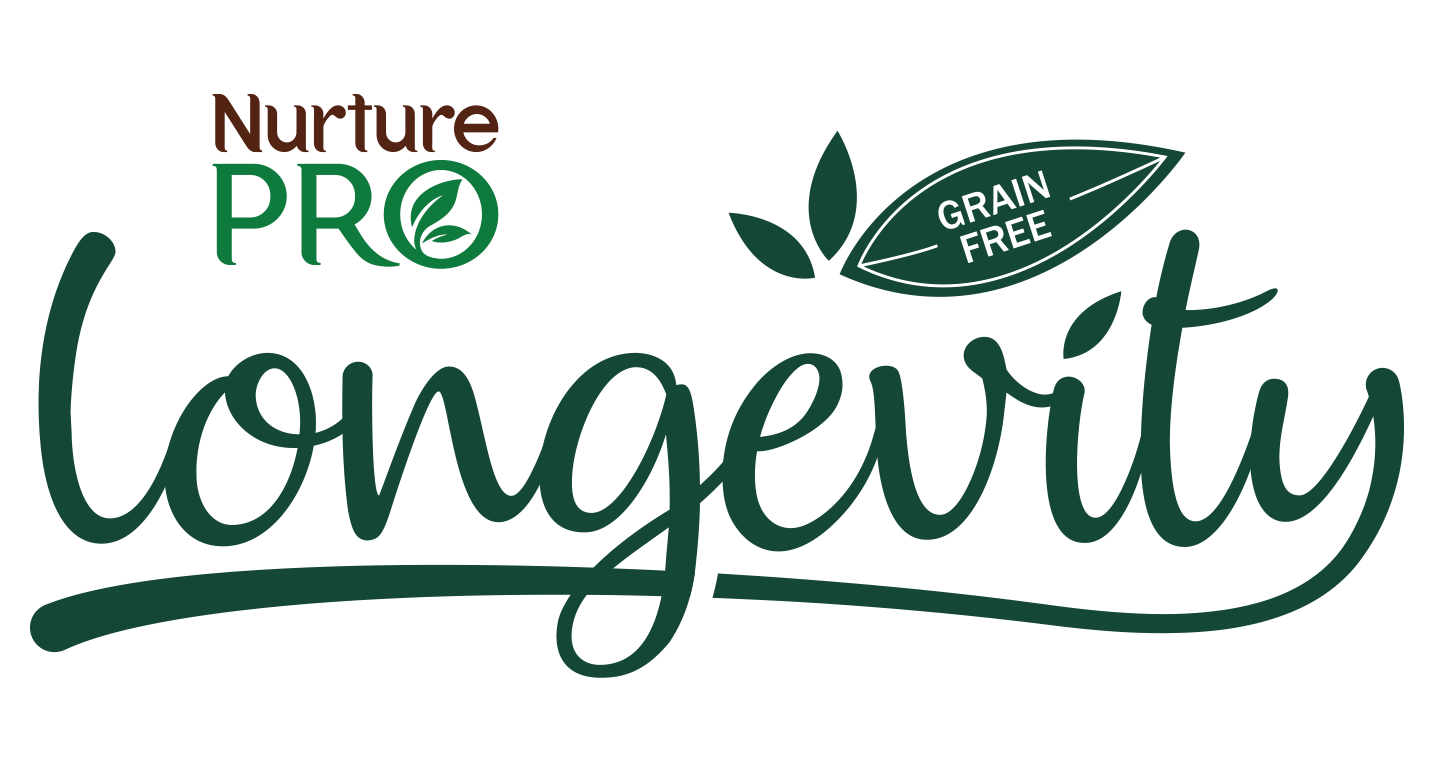 Dog Canned Food

Made with premium New Zealand meats and Omega-rich Green Lipped Mussels, Nurture Pro Longevity
dog canned food aims to provide dogs with wholesome grain-free recipes that tap into the finest
qualities of nature to support pet health while providing them with ample vigor for everyday
adventures.

Key Features
• Made with grass-fed, cage-free, antibiotic-free and hormone-free premium New Zealand meats
• Grain-free and carrageenan-free
• Enhanced with Green Tea Essence for powerful antioxidant properties
• Contains Co-enzyme Q10 to boost energy levels
• Human-grade quality with ZERO animal by-products
• NO artificial colors, flavors, or preservatives
• Formulated to meet the nutritional profiles established by AAFCO

With Green Tea Essence
Green tea is loaded with multiple vitamins (A, C, D, E, B, B5, H and K), essential minerals and is a

bountifulsource of polyphenols – antioxidantsthatstrengthen pets' immune systems and support anti-
aging.

Believed to reduce risks of cancer, Green Tea counters inflammation and fights off tumors and cancer-
causing free radical cells while helping to relieve allergies.

Benefits of Green Tea:
• Vitamins for bodily functions and growth
• Powerful antioxidant properties that strengthen the immune system and support anti-aging
• Anti-bacterial properties that reduces dental and digestive issues
• Reduces inflammation and risks of cancer
• Lowers cholesterol and regulates blood sugar levels
• Weight-control due to thermogenic effect
• Protects joints from deteriorating
• Reduces allergies
Superior Ingredients
As man's best friend, we have a duty to seek for the best source of nutrition for our dogs. That is why
we hand-picked specific ingredients that help to provide purposeful and holistic nutrition to dogs
without compromising on the essentials the body requires.
We want to keep your best buddy in prime health for you to create fonder memories with each other.
High Quality Meat Proteins

• Premium meats sourced locally in New Zealand that meets worldwide standard health codes
• Better protein utilization, leading to healthier growth and retention of muscle in old age
• Grass-fed, cage-free and hormone-free
• Human-grade quality







Green Tea extract

• Very rich in antioxidants
• Aids digestive health
• Promotes fresher breath
• Reduces cholesterol and high
blood pressure
• Regulates metabolism in cells

Co-enzyme Q10

• Regulates energy levels and is
essential for energy production
• Reduces the risk of cell
inflammation, cancer, and
cardiovascular and periodontal
diseases
• Boosts the effectiveness of
other antioxidants

Green Lipped Mussel

• Rich in Omega 3, EPA and DHA
for brain development
• Natural source of Glucosamine
and Chondroitin for joint
support
• Helps to prevent and sooth
joint pains such as arthritis
Pumpkin

• High in Fiber, Potassium and
Vitamin C

• Natural source of Beta-
carotene to support proper

vision development
• Prevents urinary incontinence

Sunflower Oil

• Rich in Omega 6 to stimulate
healthy skin growth
• Retains moisture to maintain
smooth and shiny coat

Yucca Schidigera

• Aids with digestion
• Reduces stool odor
• Helps alleviate pain and
inflammation of arthritis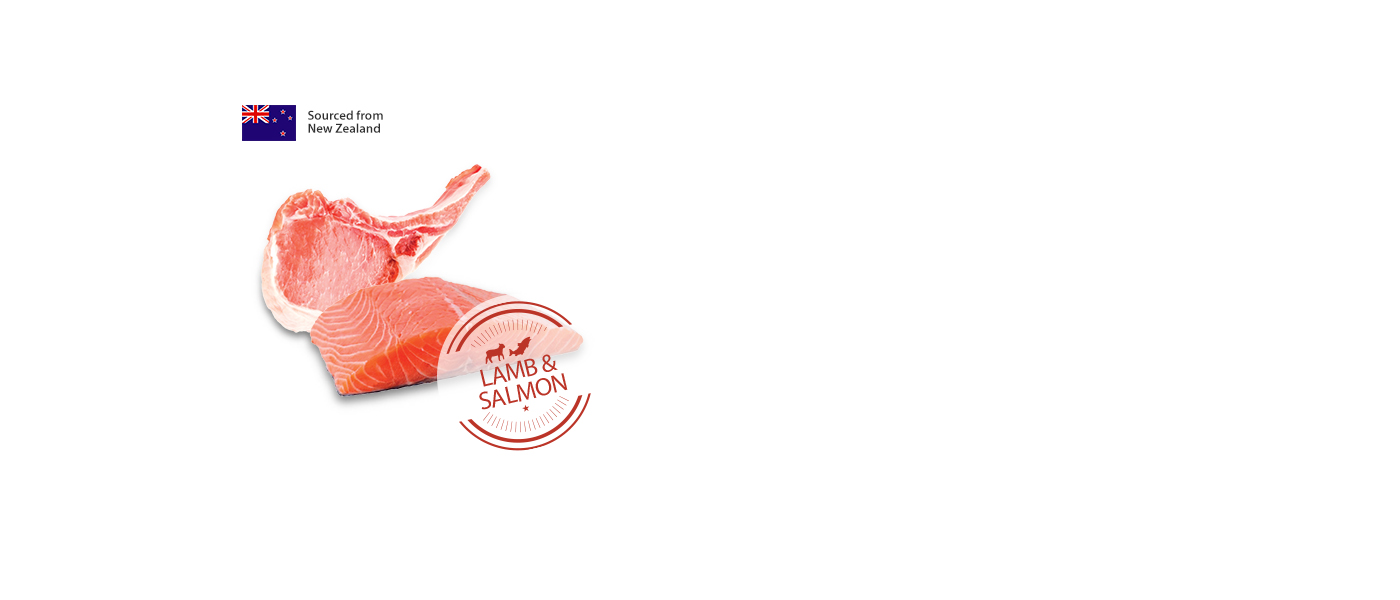 Made with premium New Zealand meats and Omega-rich Green Lipped Mussels, Nurture Pro Longevity Dog Can - Lamb and Salmon with Green Tea Essence is a 100% Grain-free recipe that aims to tap into the finest qualities of nature to support pet health while providing them with ample vigor for everyday adventures.
Proteins sourced only from serene New Zealand
Fortified with Green Tea, Co-enzyme Q10, Green Lipped Mussel, Pumpkin, Sunflower Oil and Yucca
NO soy, wheat or corn
NO artificial preservatives, colorings or flavorings
Ingredients:
Broth, New Zealand Grass Fed Lamb, New Zealand King Salmon, Lamb Liver,
Lamb Kidney, Pumpkin, Ovine Plasma, Brewers Yeast, Calcium Carbonate,
Sunflower Oil, Tetrasodium Pyrophosphate, Mussel Powder, Agar Agar, Cassia,
Potassium Chloride, Vitamin A, B1, B2, B3, B5, B6, B12, Vitamin E, Iodine, Folic
Acid, Biotin, Organic Copper, Organic Manganese, Organic Selenium, Organic
Zinc, Organic Iron, Calcium Carbonate, Guar Gum, Green Tea Powder, Yucca
Schidigera, Choline Chloride, Coenzyme Q10.
Typical Analysis
Crude Protein (%) Min : 24.75
Crude Fat (%) Min : 21.48
Carbohydrate (% by difference) : 47.94
Crude Fiber (%) Max : 0.61
Crude Ash (%) Max : 5.22
Moisture (%) Max : 73.17
GE (kcal/kg) : 4841.00
Vitamin A (IU/kg) : 61476.00
Calcium (%) Min : 1.00
Phosphorous (%) Min : 0.55
---