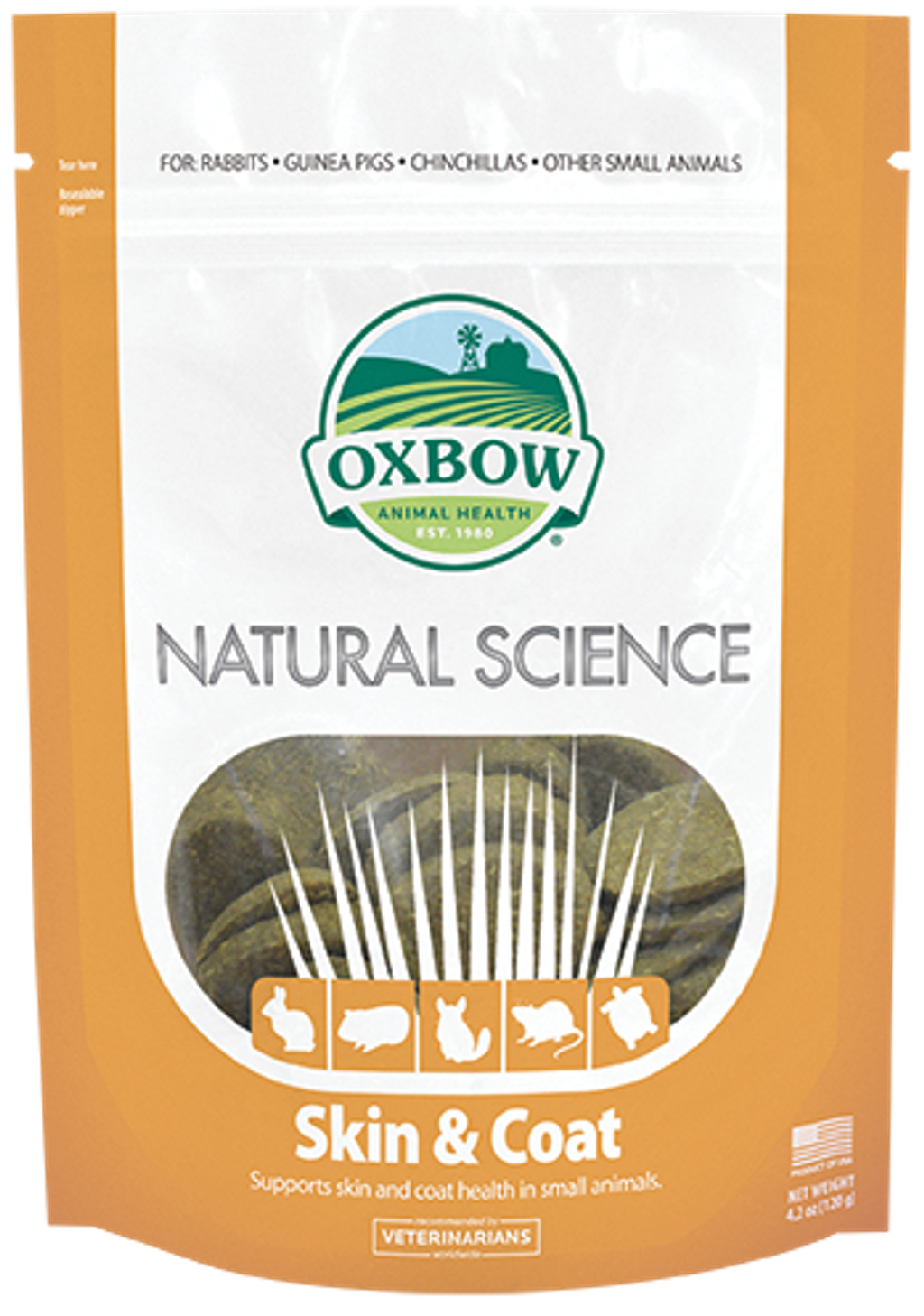 OXBOW NATURAL SCIENCE – SKIN AND COAT 120g
- Oxbow Natural Science Supplements –

Oxbow Natural Science Supplements were formulated through the consultation of extensive
scientific research, as well as by utilizing the guidance of top exotics veterinarians and
nutritionists with extensive practice in holistic medicine and the use of herbal ingredients.
Research references included a myriad of top peer-reviewed scientific journals and leading
veterinary scholarship relating to herbal and holistic medicine. Only the safest and most
beneficial herbs were chosen for formulation, at levels appropriate for inclusion in the daily
diets of small pets.
Guidance from experts in Holistic and Herbal Medicine
The formulation of our Natural Science supplements involved extensive conversations and
consultation with top experts in the fields of holistic and herbal medicine. These individuals
included top exotic veterinarians and renowned, respected herbalists, as well as practitioners
of holistic medicine.
Why Supplements?
Even with a balanced diet, some pets require a little extra support to be at their best. Made
with high quality timothy, Natural Science Supplements are formulated with premium herbal
ingredients that provide focused support for specific health and wellness needs of small
animals.
The Natural Science Supplements line is a customizable nutrition program designed to meet
the needs of pet owners seeking a premium, individualized approach to their pets' health. By
combining the fortified foods and focused supplements with unlimited fresh water and grass
hay, pet parents can provide an all-natural, nutritionally-balanced diet that can maximise the
health and well-being of their pet.

Key Features:
• 8 unique innovative formulas for customized nutritional support
• Premium herbal ingredients support health and wellness
• Free of additives, artificial colour and preservatives

Which supplements are safe for Young, Pregnant or Lactating animals?
| | |
| --- | --- |
| SAFE | NOT SAFE |
| Vitamin C | Digestive |
| Multi-Vitamin | Joint |
| | Urinary |
| | Skin & Coat |
| | Papaya |
Skin and Coat, 120g
Natural Science Skin and Coat Support promotes skin and coat health in small animals. Ideal
for small animals with a history of skin or coat issues, allergies or dermatitis, or any condition
causing itchy skin.
✓ For pets with skin or coat irritation, diseases or infections.
Key ingredients:
| | |
| --- | --- |
| Chamomile: | Anti-inflammatory, anti-allergic and anti-pruritic; helps reduce itching and scratching |
| Flaxseed: | Provide beneficial Omega 3 & 6 fatty acids |
| Canola: | Anti-inflammatory; helps aid in skin-related diseases and promote healthy skin and coat |


Active Ingredients:
Timothy Grass, Barley Flour, Oat Groat Flour, Cane Molasses, Flax Seed Meal, Chamomile,
Brewers Dried Yeast, Palm Oil, Canola Oil, Guar Gum, Fat Product, Mixed Tocopherols
(preservative), Rosemary Extract
---