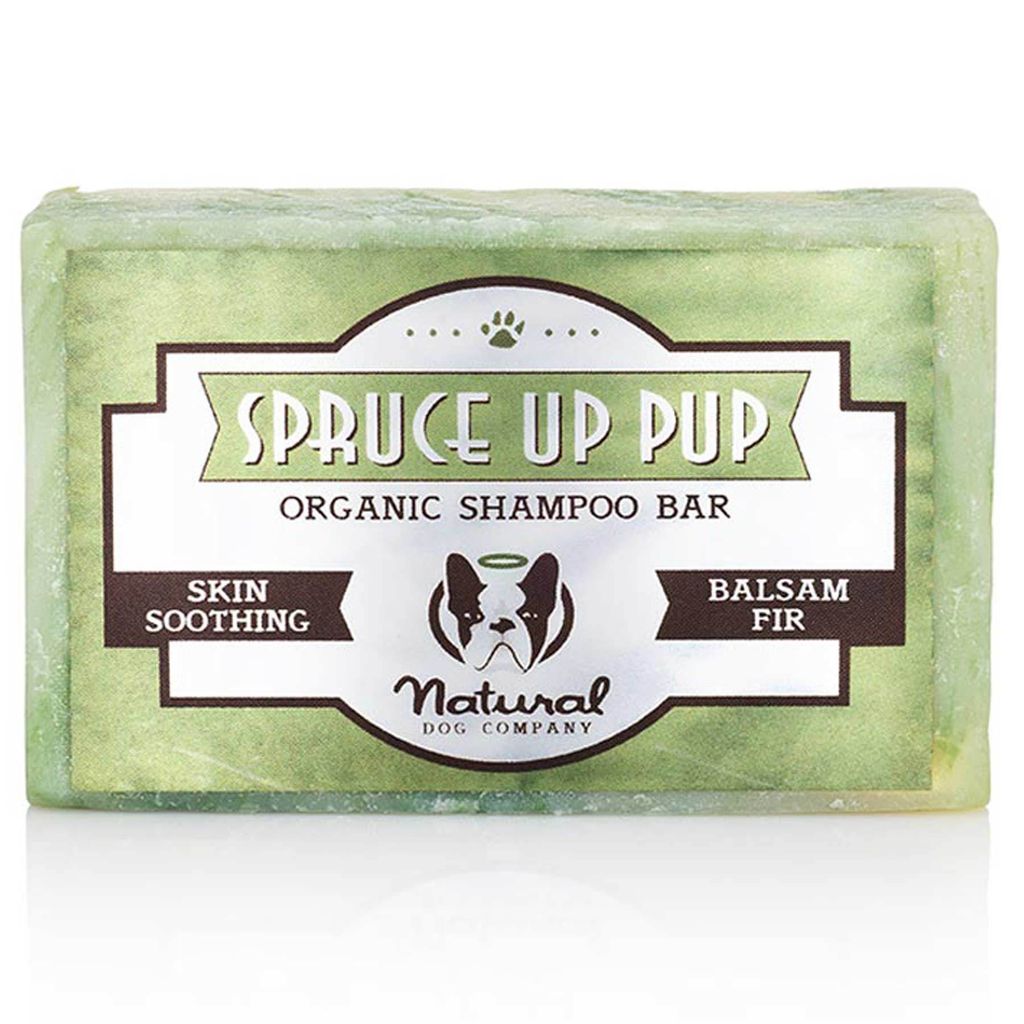 SPRUCE UP PUP ORGANIC DOG SHAMPOO BAR
SPRUCE UP PUP SHAMPOO BAR
Give your dog the clean they deserve!
With the mud, gunk, and grime dogs are bound to get into, a powerful grooming product is key for maintaining a healthy, stank-free pup! Are you in need of a safe, organic shampoo for your furry friend?
Our shampoo bar is crafted to give your dog a deep clean with 100% natural ingredients with anti-inflammatory, anti-fungal, & antibacterial qualities!
Natural Dog Company's 3.5 oz Spruce Up Pup Shampoo Bar is loved by dogs & owners around the globe. Ready to spruce up your pup?
Description
This once limited-edition item was loved by so many pups & left owners pleased with the clean, we had to bring it back for good. Packed with organic essential oils that not only clean your pup's skin & coat, but natural anti-inflammatory, anti-fungal, and antibacterial properties keeps them healthy, too! Cleanse, soothe, & heal all with one simple, spruce-smelling shampoo bar.
Our Spruce Up Pup Shampoo Bar goes beyond a surface clean. This bar is crafted to keep your dog clean, healthy, & happy! Our ingredients such as rosemary & pine oil have been used to naturally reduce stress for centuries. Now it's your loyal companion's turn to reap the benefits!
Spruce Up Pup leaves your dog smelling fresh but that's not it. The essential ingredients help to protect your pup beyond shiny locks. With a high concentration of antiseptic organic compounds, this shampoo bar helps prevent infections, eases skin discomfort, & eliminates bacterial-driven odor.
What other skin conditions can our shampoo bar help your pup with?
Psoriasis and itchy, flaky skin
Canine acne
Eczema
Skin sores
Fleas
With its Balsam Fir & other healing, aromatic essential oils, this organic, all-natural shampoo will give your pup a luxurious shine, soothe & hydrate skin, relieve pain or stress and leave your pup smelling super fresh.
Application
To get your dog spruced up, simply rub the shampoo bar on your dog's wet coat, making a rich, creamy lather. Add more water to help increase suds if necessary. Thoroughly massage the shampoo deep into your dog's coat, rinsing completely when done. Grab a towel to dry your fresh pup off & toss him or her a treat for a successful bathtime!
Ingredients
Our ingredients are all organic & blended with only the highest-quality, essential nourishing nutrients. Our shampoo bars smell great, get your pup sparkling clean, & are safe for pups of all breeds & sizes.
Key components include:
Balsam Fir Needle Essential Oil | Natural antiseptic to prevent infections & maintain healthy skin. Reduces body odor & decreases bacteria found on skin
Natural Pine Essential Oil | Anti-fungal & antiseptic properties to help treat various skin concerns & rid the skin of free radicals & bacteria
Rosemary Essential Oil | Hydrating oil to help stimulate hair follicles for a healthy, strong coat & helps alleviate dry, flaky skin
Remaining essential ingredients: Saponified Organic Oils of Sustainable Palm, Coconut, Olive & Palm Kernel, Natural Mineral Pigment
---