YU Camellia Nourish Formula 400ml/4000ml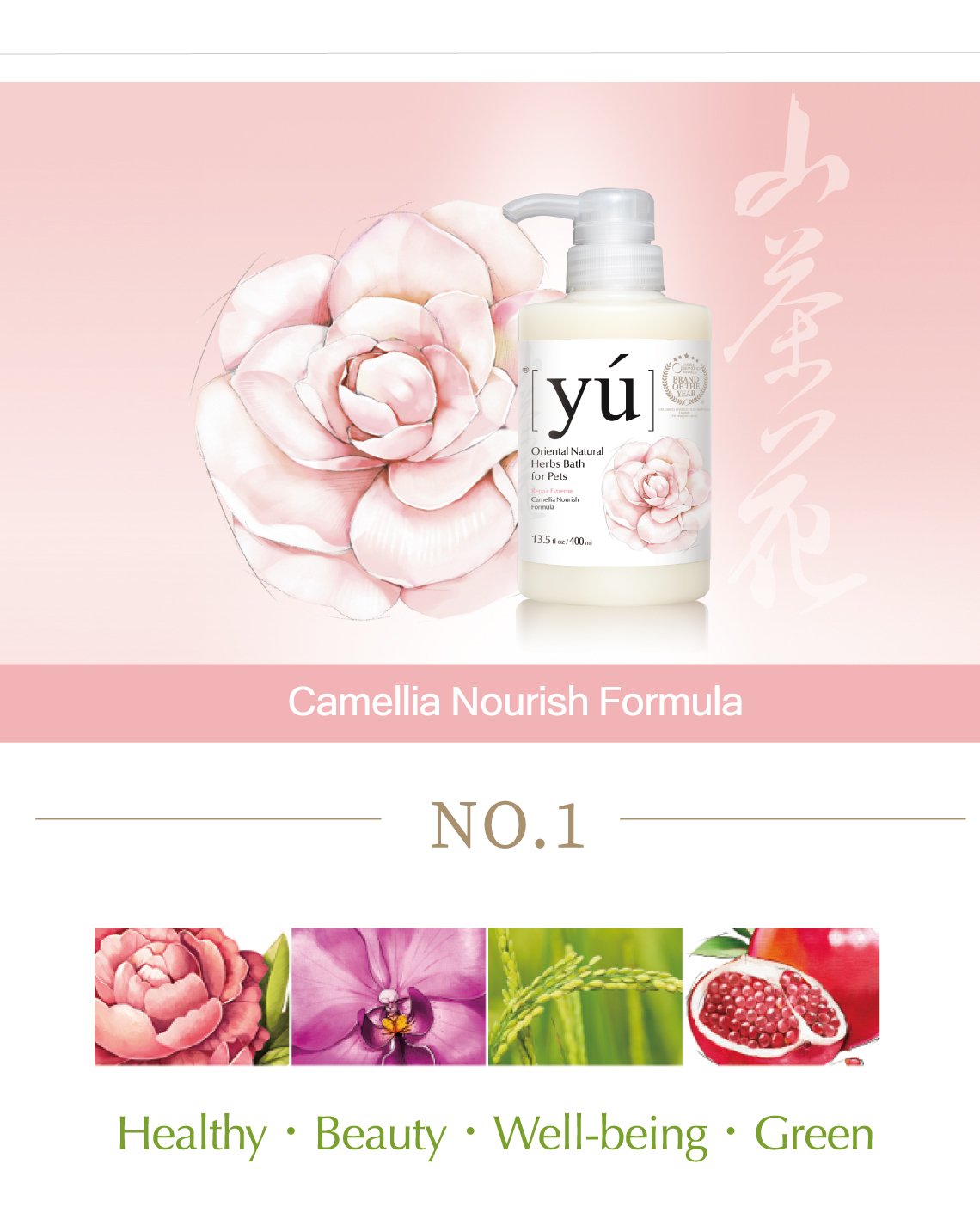 YU Oriental Natural Herbs Care for Pets
Camellia Nourish Formula
Camellia oil + Epilobium fleischeri extract + Witch hazel + Allantoin + Vitamin B6
Unique pet care from Asia-rich blend of oriental herbs and flora gently cleanses and pampers your pet's skin and coat. Camellia oil strengthens damaged fur from inside and nourishes for a healthy smooth coat. Exclusive scents reveal a captivating exotic bouquet.

Natural & Organic Repair Give your pets a luxurious oriental botanical and floral bath
To provide the perfect bath experience to your pets, we selected precious oriental botanical and floral extracts and produced a unique formula which captures the living energy found in plants. Organic epilobium fleischeri extract help with soothing and repairing sensitive skin, giving your furry friend the best skin care treatment.

Health & Safety
Health and safety are essential to a beautiful life.
Healthy ingredients, healthy formula, healthy skin and healthy coat

Beauty
From packaging to formulation, our products are specifically-designed to take care of your pets. Beauty matters to us. Beauty gives a positive feeling and boosts confidence. Beauty balances both the mind and body. It works with you, it also works with pets !

Sensory Experience
Natural and organic products are relaxing and uplifting, never dull and dry.

Happiness
We believe that every bath time should be a fun and happy sharing moment after a very long day. Our natural formulas give a silky touch and unique fragrance to your pets for an absolute and totally enjoyable sensory experience.

■ Mild and gentle botanical formula produces soft creamy bubbles, and cleans the skin and fur
■ Suitable for both dogs and cats
■ Delicate fragrances with deodorizing property extracted from a selection of flowers and woods keep skin and hair clean and fresh for 4-7 days
■ Contains Allantoin, Witch Hazel form a protective film. organic epilobium fleischeri extract sooth and repair sensitive skins
YU, the unique pet care from Asia showcases an extensive line of grooming products that combines a rich blend of exceptional oriental herbs and flora.

YU grooming products are made with superior ingredients and formulated to ensure that your pet is not only pampered but healthy too.YU Camellia Nourish Formula Shampoo cleanses and gently pampers your pet's skin and coat.This shampoo is fortified with Camellia essence that strengthens damaged fur from inside and nourishes for a healthy smooth coat. Exclusive scents of this shampoo reveal a captivating exotic bouquet.
KEY FEATURES:
Repair Extreme
With Camellia oil
Strengthens damaged fur from inside
Nourishes for healthy and smooth outer coat
Captivating exotic bouquet fragrance
Suitable for all coat types
Unique pet care from Asia-rich blend of oriental herbs and flora gently cleanses and pampers your pet's skin and coat. A special blend of scent leaves your pet friends smelling sensational! Peony essence controls bacteria and prevents skin infections.
Ingredients:
Camellia Oil, Witch Hazel, Allantoin, Vitamin B6, Epilobium Fleischeri Extract.
Directions
Wet your pets coat down to the skin.

Apply an adequate amount of product onto the palm of your hand and rub into a soft lather.

Massage thoroughly.

Rinse off completely with clean water.

Go well with leave in treatment too.
---